Meet The Ambiance Dental Team
We strive to make your visit as enjoyable as possible and will gladly help you make sense of your insurance coverage and payment options.
All of the staff at Ambiance Dental look forward to getting to know you better! To help you get to know us better, have a read through the bios below.
Michelle
Practice Coordinator / Registered Dental Assistant
Meet Michelle
Michelle will tell you the best concert she ever attended is Garth Brooks. If you happen to come into the clinic and hear country music, (1) Michelle picked the playlist and (2) Dr. Nagra will make her change it. (Though she will also agree Garth Brooks was one of the best concerts she has ever been to!)
Not one to jump on the bandwagon, she recently started to watch Game of Thrones with her partner Clayton. Like Kris Jenner, she also has her clan of K named children: Kelsey, Kydin and Kowyn.
A rare breed, Michelle is a born-and-raised Calgarian who currently commutes from Okotoks to join our lovely crew at Ambiance.
Why Ambiance Dental?
Michelle has been part of the Ambiance Dental team for 15 years! She graduated from KDM Dental College in 2003 and has been an instrumental part of this office since its first days. Michelle started as a Dental Assistant, transitioned to the Administration team after 9 years, and her wealth of experience has led her to the current role of Practice Coordinator.
She enjoys the daily interaction with patients and feels fortunate to love her job and the team she works with. She admits there is no office better than Ambiance Dental.
Jolene
Registered Dental Assistant
Meet Jolene
Jolene is a closet fan of Lisa Adams. Don't worry, we also had to Google who Lisa Adams is.  She agrees that the toilet paper debate for over-or-under is definitely over, since she admits she is not a sociopath. Jolene's dry sense of humour that takes time to get used to, but we have, and we love her for it! A mother of three, she is adamant she will not have any more children.  Her husband Scott is also serious about that, though they said that after 2 children. Arly, Evie and Owen complete their clan.
Why Ambiance Dental?
She graduated at the top of her class as a Level Two Dental Assistant from SAIT in 2009. After that level of excellence, she could only stay at the top and has been employed at Ambiance Dental since her graduation.
She has a passion for high quality dental care and loves being part of a team that supports excellence in dentistry. She enjoys collaborating with her patients, Dr. Nagra, Dr. Wasik and Dr. Nowak.  Her goal is to help fit dentistry into her patients lives in the best way.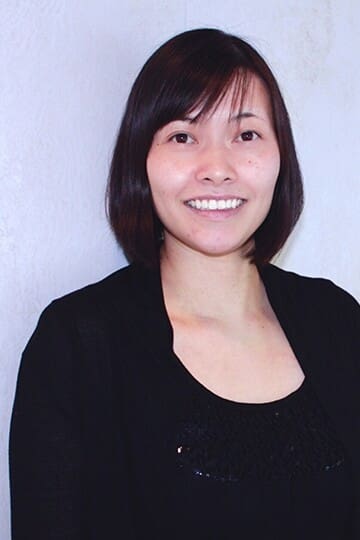 Winnie
Registered Dental Hygienist
Meet Winnie
Winnie is a rare breed of girl who loved board games before they were cool. She also is that breed of girl who will put on a GoPro to take videos of her toddler. Wife to Dan and mother to Titus, she is the lone female in her household.
Why Ambiance Dental?
Winnie graduated from the University of Alberta with a Bachelor of Science degree specializing in Dental Hygiene. She has been part of the Ambiance Dental team for over 15 years!
Winnie loves working with our wonderful team to provide optimal oral health care to her patients. Her patients appreciate the gentle caring touch Winnie provides, and the time she spends educating them about the latest in dental care.
Sandra
Registered Dental Hygienist
Meet Sandra
Sandra once told us that if she wasn't a dental hygienist, she would be a sniper or a professor. We also can't make sense of that wide range of professional aspirations. Not one to sit still, she can be found training with her husband Corey for a marathon, a triathlon or eating french fries at an NFL game. She is the proud winner of her fantasy football league, a title she has held for two years, and she's open to hearing tips for winning next year.
Why Ambiance Dental?
Sandra graduated with distinction and received her diploma in Dental Hygiene from U of A in 2002. Prior to obtaining her Hygiene diploma she completed her BSC in Agriculture and MSC in Nutrition and Metabolism at the U of A. She was pursuing a PhD at UBC in nutrition and metabolism but luckily for her patients she found her true calling and enrolled in the dental hygiene program where she combines her knowledge of dental health and full body wellness. She is passionate about helping her patients improve their overall health and understanding the mouth-to-body link.
New patients are always welcome!  Let's discuss your dental health together.