Dr. Heintze joins us from New South Wales, Australia. He obtained an Honours in Forensic Biology before completing a Doctor of Dental Medicine at the University of Sydney and brings a wealth of dental knowledge from his time spent in Australia.
Dr. Heintze believes high-quality dentistry is best achieved with open communication and a scientific, best-practice approach to treatment. He is an advocate for his patient's lifelong dental health.
When not practicing dentistry, you will find Dr. Heintze exploring the natural beauty of his new homeland. He is an avid fitness enthusiast and enjoys hiking, swimming, and exploring the great outdoors with his wife.
Dr. Nowak is pleased to be practicing as a general dentist at Ambiance Dental, and is the newest member of the team.  Her existing relationships with the team at Ambiance Dental make her a solid fit to the culture at the office, and she shares similar values for how to keep you healthy, starting with your dental health.
Get to know the team of hygienists, dental assistants and administrators that make your experience at Ambiance Dental run smoothly.
Michelle
Practice Manager
Meet Michelle
Originally from Calgary, Michelle graduated from KDM Dental College in 2003 – began and completed her practicum at Ambiance Dental – and started work immediately afterwards. Michelle is married to Clayton; they have one daughter and two step-sons. Pets include Yoda, the bulldog. Annie, the French bulldog and Kyle, the hamster. Michelle's hobbies include golf, curling and camping. A little-known fact about Michelle – she's part dinosaur. She has
Brachydactyly Type D – she is part of just four percent of the population with toe thumbs.
A busy mom, one of Michelle's favourite activities is enjoying an early morning coffee alone in the peace and quiet of her surroundings. Her favourite quote is, "Everything happens for a reason." The favourite aspect of her job: helping people love their smiles.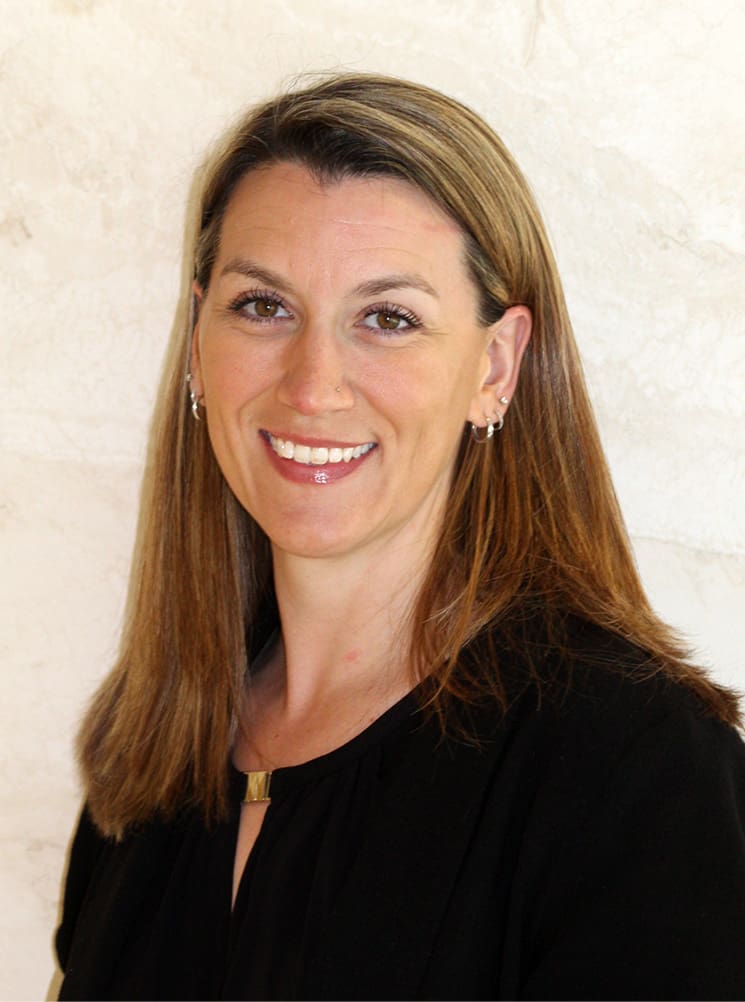 Sandra
Registered Dental Hygienist
Meet Sandra
Sandra once told us that if she wasn't a dental hygienist, she would be a sniper or a professor. We also can't make sense of that wide range of professional aspirations. Not one to sit still, she can be found training with her husband Corey for a marathon, a triathlon or eating french fries at an NFL game. She is the proud winner of her fantasy football league, a title she has held for two years, and she's open to hearing tips for winning next year.
Why Ambiance Dental?
Sandra graduated with distinction and received her diploma in Dental Hygiene from U of A in 2002. Prior to obtaining her Hygiene diploma she completed her BSC in Agriculture and MSC in Nutrition and Metabolism at the U of A. She was pursuing a PhD at UBC in nutrition and metabolism but luckily for her patients she found her true calling and enrolled in the dental hygiene program where she combines her knowledge of dental health and full body wellness. She is passionate about helping her patients improve their overall health and understanding the mouth-to-body link.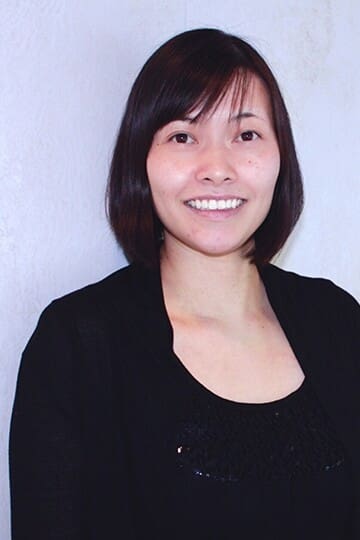 Winnie
Registered Dental Hygienist
Meet Winnie
Winnie graduated from the Registered Dental Hygienist course at the University of Alberta in 2003 and started working at Ambiance Dental the same year. Born in Hong Kong, Winnie is married with one son with whom she loves spending her time. Her hobbies include biking, swimming and reading. Her favourite activity is downhill karting. Her favourite quote is, "You only live once."  For Winnie, the best part of her role at Ambiance Dental is seeing the transformation in the patient's teeth, allowing them to smile confidently. She also enjoys getting to know each patient and her amazing team members.
Kristine
Registered Dental Assistant
Meet Kristine
Kristine was born in Las Pinas City in the Philippines. After graduating from the Registered Dental Assistance Program at KDM Dental College, she started working at Ambience Dental in 2021. Kristine is married with two children – a son and a daughter. Her hobbies include baking and Friday night movies with the family. A little-known fact about Kristine – she cries at everything. Even happy moments make her cry. She is easily moved to tears. She once owned 75 different indoor plants and still loves collecting small ones. One of her favourite pastimes is to watch her husband and children play basketball on the weekends. She finds it a great way to bond as a family. Both children are involved in club and community basketball. Her favourite quote is by Mahatma Gandhi, "Live as if you were to die tomorrow. Learn as if you were to live forever."
Parker
Registered Dental Assistant
Meet Parker
Parker graduated from Columbia College in 2017 and started working at Ambiance Dental on October 26th of 2022. Born in Smithers, BC, Parker is a true animal lover with two dogs, Duke and Lady, and a cat named Kevin. (Yes, Kevin) In her spare time, Parker enjoys camping, hiking, and hunting. What she likes most about her role at Ambiance Dental is that every day brings something new.
Samantha
Dental Administrator
Meet Samantha
Samantha, a dedicated dental administrative assistant, recently joined Ambiance Dental, bringing her expertise after graduating from KDM Dental College in 2019 and assisting as a Registered Dental Assistant Level II.
Born in Canada but raised by the sun-kissed beaches of Southern California, Samantha has a deep love for nature, which translates into a passion for hiking, camping, rock climbing, and beach days. She's also an enthusiast for watercolour painting, reading, jazz, classic films, and baking, boasting the ability to whip up the best cheesecake.
Dedicated to helping others lead confident, healthy lives, she finds fulfilment in dentistry and offers her skills in various volunteering activities. Guided by Fred Astaire's mantra, "Do it big, do it right, and do it with style," she brings enthusiasm and dedication to every facet of her life.
New patients are always welcome!  Let's discuss your dental health together.